Terry's Genealogy Page

I am no longer actively doing any genealogy research. I have turned all of the files connected with my side of the family over to my sister Carla. She's the real genealogist in the family. I still have the files that deal with my husbands side of the family only because there is noone to give them to. I don't know if I will ever return to doing any genealogy research. I had fun while I was doing it but other things have taken it's place now. You can still access my genealogy links pages.
Good Luck in your research!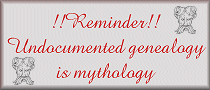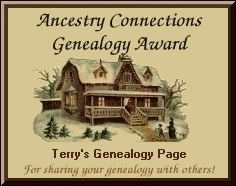 | | | |
| --- | --- | --- |
| | | Keeping Family History Alive |
The SurnameRing
To Join the Ring, click here.

A member of the


The SurnameRing
Next Five Sites, click here.