Nile Style 1 - "PILLAR TALK"
This is the first of the "Style on The Nile" theme sets. I find the whole culture of Ancient Egypt fascinating, so look out for more to follow.
I've just finished Christian Jacq's 'Ramses' quintet, & was amazed at how advanced the civilization was. My nine year old son Arty is another budding Egyptologist, so I'll be pouring over some of his books for inspiration next !

DESIGN NOTES:
Nested tables, which will extend widthways automatically to fit the different browser resolutions of visitors to your site & lengthways to accommodate your content. This is another set with a lot of possibilities for different arrangements. The header graphic, plus a blank button, come in both blue & red background versions, & although they are called transparent GIFs, they should be used on the correct colour background, as a small amount of that colour will still surround them. I've put together an alternative layout, & some ideas for using the same graphics in a different way HERE



TERMS
You may use this set on your personal web pages in return for a link back to Groovy Lizard on the same page as the graphics, using the matching lizard-link button below. Please read the Terms first.
Commercial sites must purchase a licence. Find out how Here

Graphics & Design Copyright ©Groovy Lizard 2000. All Rights Reserved.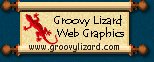 LINKWARE INDEX MAIN PAGE SITE MAP