UT FACTS & TRIVIA

The University of Texas is located at Austin, Texas in the heart of the Texas Hill Country a city with over 450,000 people and the hub of the state government. There are many things to do and see in Austin. Austin has a diverse population with activities for all ages.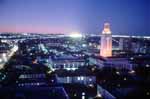 UT was founded in 1883 on 40 acres of land near the state capitol. It had one building, eight teachers, two departments and 221 students. It now has on its main campus of 357 acres and 120 buildings, home to more than 2,332 faculty, 15,000 staff members and close to 50,000 students. UT is now in it's 115th year. UT has awarded more than 350,000 degrees. Among the alumni are - Lady Bird Johnson, Walter Cronkite, Lloyd Bentsen, Bill Moyers, Federico Pena, Earl Campbell and Tom Landry.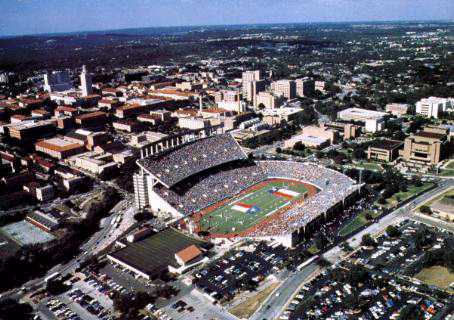 In 1997, Texas Memorial Stadium was renamed the "Darrell K. Royal Texas Memorial Stadium" but, to me it will always be Memorial Stadium. I think that Darrell Royal was one of the best coaches Texas has ever had but, they didn't need to rename the stadium after him. There are other fine facilities that they could have named after him.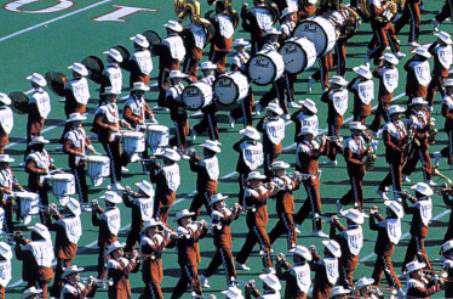 The Longhorn Band was founded in 1900 by chemistry professor E. P. Schoch. The band has grown to 340 outstanding musicians. Only 15% are music majors, the other 85% represent virtually every academic discipline on UT. The UT Band is called "The Show Band of the Southwest" a term that was developed in the 1950's during the tenure of director Vincent R. DiNino. UT owns the largest bass drum in the world called "Big Bertha". It was introduced in 1955 and was donated by D. Harold Byrd. It measures 8 feet in diameterl, 54 inches in width and weighs 500 pounds. Four "Drum Wranglers" look after it at each game. Paula A. Crider retired as UT Band Director at the end of last year. She was named director of Longhorn Bands in the fall of 1995 and served as Assistant Director since 1982. Prior to UT, she directed the nationally recognized David Crockett High School (my alma mater-class of '73) band, twice winning the Class 5A State Marching Championship. The march "Grandioso", now a traditional UT rallying song was brought to Memorial Stadium in the late 1950's by DiNino. "Wabash Cannonball" was first performed in 1971 at the request of Coach Darrell Royal. The song "The Eyes of Texas" was written by John Lang Sinclair in 1903. It became the school song and the unofficial state song. Here are the words:



The eyes of Texas are upon you,
all the live long day.
The eyes of Texas are upon you,
you cannot get away.
Do not think you can escape them,
from night till early in the morn.
The eyes of Texas are upon you,
till Gabriel blows HIS HORN!
The song "Texas Fight" was ranked #9 out of the top 13 most inspiring fight songs in the country. It was written in 1923 by Walter S. Hunnicutt, and arranged in the 1940's by former director Col. George Hurt. It goes like this:



TEXAS FIGHT
(chorus)
Texas Fight! Texas Fight!
and its good-by to a & m.
Texas Fight! Texas Fight!
and we'll put over one more win.
Texas Fight, Texas Fight,
For its Texas that we love best!
Give 'em Hell, Give 'em Hell,
Go, Horns, Go!
And its good-by to all the rest.
Yea, Orange, Yea, White,
Yea Longhorns, Fight-Fight-Fight!
Texas Fight, Texas Fight,
Yea Texas Fight!
Texas Fight, Texas Fight,
Yea Texas Fight.
(repeat chorus)
The largest Texas flag in the world is 75 feet by 125 feet. If you've ever seen them bring this flag onto the football field before a game, you may wonder like I do sometimes how they manage. It always amuses me when they unfurl this flag, and somebody always gets caught underneath it.
UT's colors are Burnt Orange and White. These were adopted officially as the school colors on May 10,1900.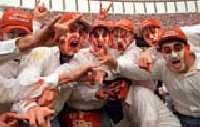 The "Hook 'em Horns" hand sign was created by headcheerleader Harley Clark in 1955. It is made by making a fist, then holding up the index and pinky finger of your hand, then holding the hand above your head and shouting "Go HORNS!" (just kidding about that last part-not!). If you really want to make an aggie mad, just stand in the middle of their campus and make this gesture.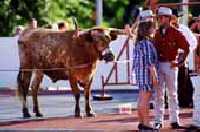 The mascot of Texas, Bevo, made his debut in 1916 during the Texas 21-7 win over TX A&M. The Aggies decided to brand Bevo I with the score of the previous year of 13-0. The story goes that when A&M branded Bevo, some Texas fans turned the 13 into a "B", made the hyphen an "E", inserted the "V" and left the "O". We are now on Bevo XIII. Bevo is handled by the Silver Spurs, a men's honorary organization. The steers are loaned to The University by the State of Texas with the understanding that they will be retired after a reasonable period of time. It's always fun to watch the wranglers handle Bevo at a football game. I have a small stuffed Bevo in my bedroom for good luck.
Smokey the Cannon is fired with two blank 10-gauge shotgun shells after each score and at the end of a game. It is operated by a service organization known as the Texas Cowboys. I always jump when they fire it off, even though I know it's coming.



The UT Tower is the 27 story Main Building. The tower is completely orange with the number "1" displayed on each side when a team wins an NCAA championship and to mark achievement, as determined by the University president. The complete tower is orange when a Big 12 team championship is won, on nights of a football victory over Texas A&M, on nights of an NIT championship, at commencement and on March 2 and July 4. The tower shaft is white and the observation and column decks orange after football wins other than against Texas A&M, on nights of basketball or baseball victories in a Big 12 Tournament, on nights of each victory in NCAA district or regional team championships, on nights of basketball victories in the NIT, and on Easter, Memorial Day, Thanksgiving and Christmas. The tower shaft is white and the observation and column decks are alternately orange and white when there are ties for an NCAA team title, Big 12 championship or football games. I always look for the lights to go on after a winning game. It is really something to see it lit up!
The Texas Angels are a group of young women selected to generate spirit for the Longhorn football team and represent the University in various recruiting activities. Their primary duties are to serve as hostesses for football recruits and their families during visits to Austin, preparing scrapbooks for seniors, helping with recruiting mailouts and decorating the football players' locker room prior to football games.
There are two different sets of cheerleaders. One is your main cheerleaders and the other is the Pom Squad. The main cheerleaders are the ones that lead the cheers and do the back flips after a score.

University of Texas Longhorns Home Page